This is the perfect session, if you want to gain clarity and make the most of your existing wardrobe by keeping the items that truly reflect your style personality and fit your body shape and colour. Embracing the Marie Kondo approach and keeping only the items that spark joy.
We will create outfits that cater to your current lifestyle and help you to get out the door, always having a day to night version ready to go.
Together we will make a shopping list to fill in the gaps, looking at current trends and deciding which ones work for you.
Selecting outfits from your existing wardrobe.
Creating new looks that reflect your personality and your
Body shape and colour.
Looking at fashion trends and deciding if they work for you.
Shopping list to fill in the gaps
This is a 3-hrs session that will be conducted at your home.
You love shopping, but end up with too many wardrobe orphans? Hate shopping or don't have the time for it?
This is the ultimate solution for you.
This session will be tailored to your needs, by completing an existing outfit with the right accessories, updating your wardrobe with seasonal trends or finding the basics to create a foundation for your wardrobe. All this by always considering your very own style personality, body shape and colour. You might even save money in the end, because now you'll have a more selective and focused eye.
* Pre-session questionnaire to understand your needs and expectations
From high street to high end shopping experience
Fill in gaps in your current wardrobe
Finding the perfect outfit for a special event
This is a 2-3hrs session.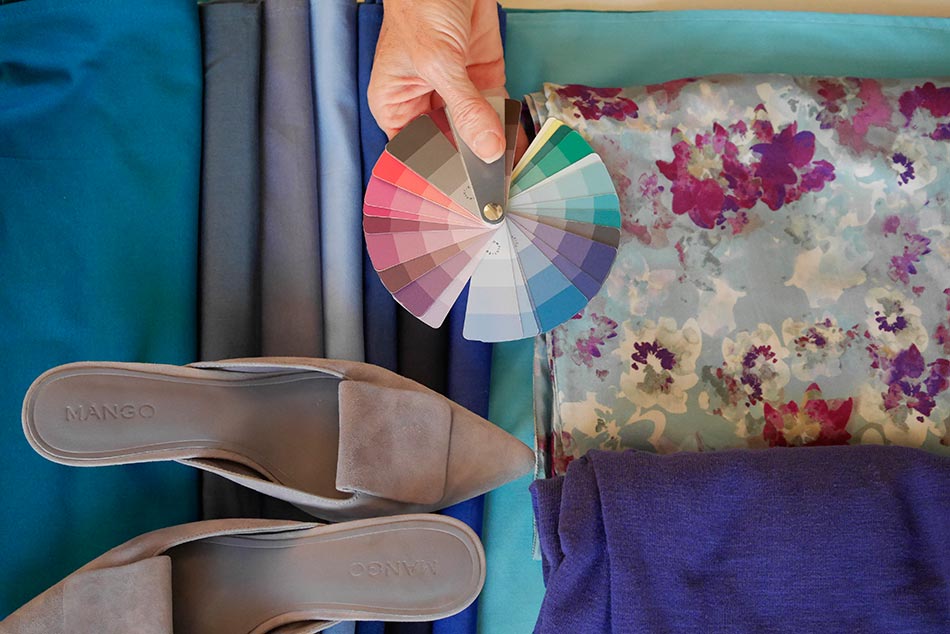 "That colour looks really good on you" or "You look really good in that colour" are two very different compliments.  Our goal in this session is the second.
Wearing the right colour is the key to every outfit and can be the ultimate trick to make you really shine. It can  make your skin glow, reduce under eye shadows and eliminate uneven skin.
It can help us  underline our style personality, enhance our positive body features and project a certain image.
With the help of special fabric swatches we will find your WOW colours, determine the right hue, value and intensity that truly enhance your skin tone creating a youthful glow.
A no make-up session to determine the right colour to match your skin tone with the help of professional colour swatches.
A personal colour booklet to take with you on your next shopping trip.
Tips and tricks for the items in your wardrobe that are the wrong colour.
This is a  2hrs session.
Body shape analysis & Style finder
This is the simple solution to find the right items to enhance your body shape, emphasising your best features.
You will some insight tips on optimal lengths, cuts, patterns and necklines to help you to achieve the ultimate look. By wearing clothes that have the perfect fit and are adequate to your body shape you can look slimmer and taller.
* Pre-session questionnaire to discover your very own style personality
Measuring body and determine your body shape
Suggestions of styling outfits to draw attention to the positives
Finding out which necklines are better for you
This is a 2hrs session.